Rangoli Designs With Beautiful Flowers
Rangoli is a decorative and colourful design made on the floors especially during festive occasions. These are considered sacred and are meant to serve as welcoming areas to Gods. Rangolis are usually colourful (though you can find monochrome designs too) and are made using several materials like flower petals, rice, flour etc.
In Eastern and Southern regions, Rangolis are made using a mixture made of grounded rice mixed with water, and are specially called Kolams (in Tamil Nadu).  So each region has its own ways of doing their rangolis.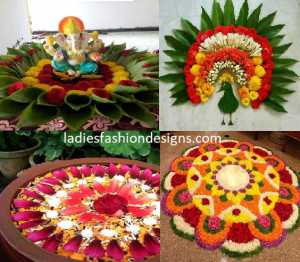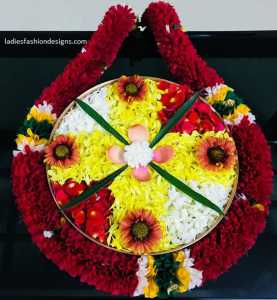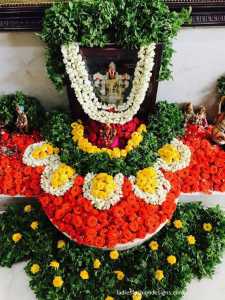 The most common flowers used in Flower ranglois are are daisies, roses and marigolds. Not just flowers but leaves are used in flower Rangoli too.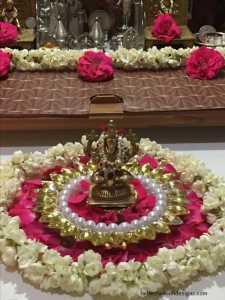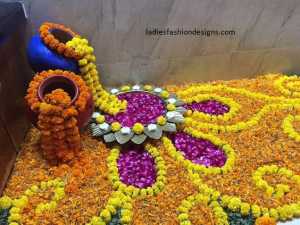 This one is a spectacular flower rangoli using flowers of various colours. The Rangoli here has roses, daisies, different coloured marigolds and much more.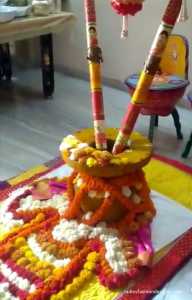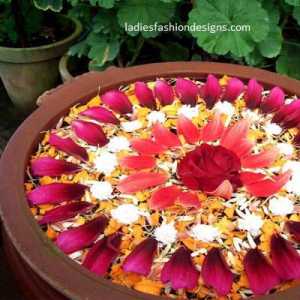 This one is a very difficult design and the theme is Floral and Romantic. The flower shape has been given a twist with the emphasis on the heart shaped patterns.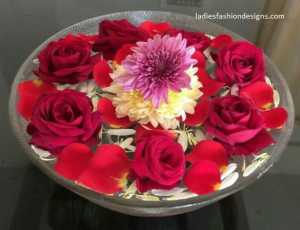 All in all, this is a fantastic design for any occasion and can be done on even anniversaries or weddings too.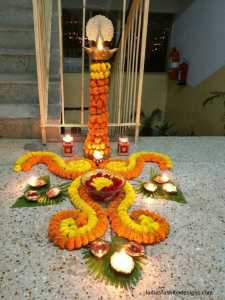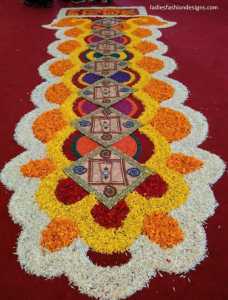 This one also includes loads of colours which makes it a very colourful Rangoli. The center of attraction is the Diya. The orange colour of the Marigold becomes the primary colour in this rangoli and the white and purple spiral shapse on the border adds to its uniqueness.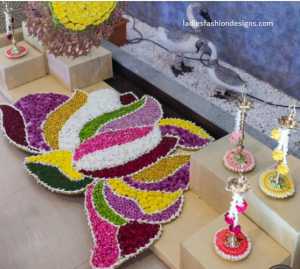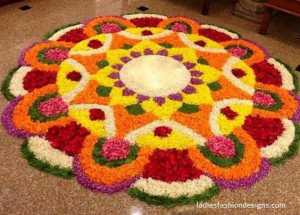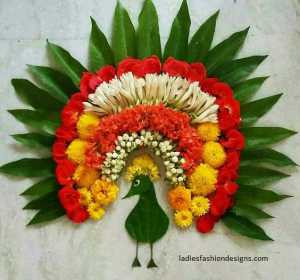 This one is a rightful justification for the term – Flower Rangoli because it's a Rangoli in the shape of a real flower and is made up of flower petals as well. We love how the five petals of the flower in the rangoli are done using multiple coloured flower petals. We also love the added rose petals in the center of the design.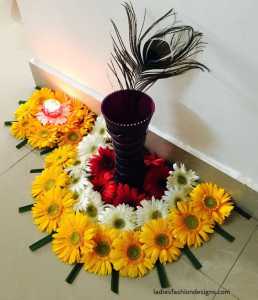 This one is another very colourful design that includes loads of colours and is really a great way to celebrate any festive day.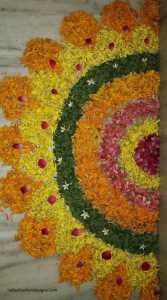 As it is very colourful, it can be used on any occasion like Diwali, other religious functions or on any other day too. But we think this makes a very pretty Holi Rangoli, especially due to its colour play. Do you agree?