If there's one thing every bride loves about her wedding, it's doing up her hair into the long and beautiful 'poola jada perhaps more than the wedding saree or jewellery. And with all the pretty and intricate patterns of 'poola jada' bridal hairstyles that are being made of late it is really hard not to fall in love with them in all their beauty.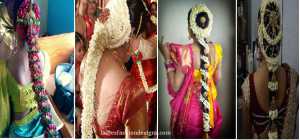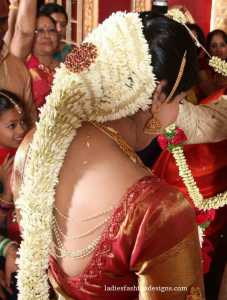 Pink and yellow have been an ever-favourite with our brides for their wedding hairstyles, especially since pink wedding sarees have been all the rage lately. And when pink and yellow are mix-and-matched, it can result in beautiful poola jada patterns.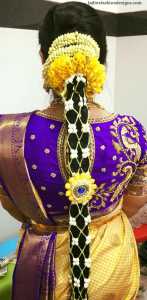 Hitherto, it was just jasmines and roses which were used as as a part of the traditional poola jada. But now, there are a plethora of flowers of different colors, frangrances and sizes being used on them, inter-mixed with some gorgeous jewellery.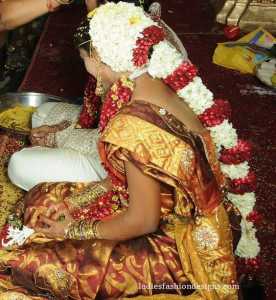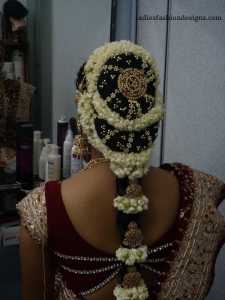 Brand that was formed especially for this, never fails to make a bride's day by weaving some really gorgeous poola jada hairstyles. They use nearly every flower that can possibly be used crafting wonderful wedding hairstyles that are beautiful beyond words. All these hairstyles that we've collaged are by them.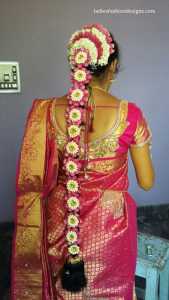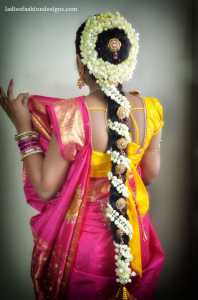 The regal combination of red and gold has been two of the favourite picks of brides and South Indian hairstylists of late and they never fail to work their magic be it on the hair or on a saree.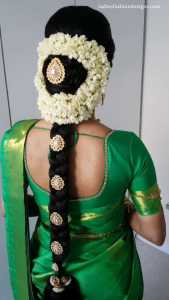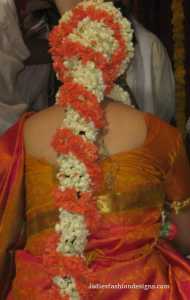 Weaving your poola jada along with some jewellery is another sure-shot way to rev up its beauty and add a dash of grandeur to it.

When you pick a blue Kanjeevaram for your wedding, you no longer have to worry about getting a floral wedding hairstyle that matches with your saree as pretty hairstyles can now be made out of blue as well.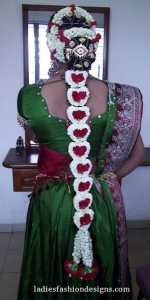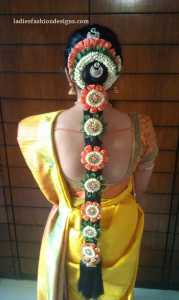 Now that you've gone through all these pretty floral bridal hairstyles, it's time to pick the one that you loved the most and let us know which one it is.