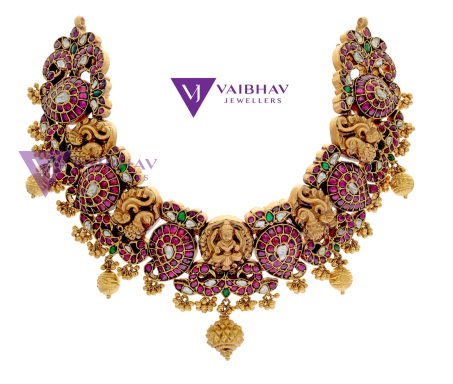 This timeless treasure from Vaibhav Jewellers welcomes you to an Odyssey of intricacy. The snuggled peacock accents amongst the paisley highlights represent seamless artistic supremacy and the petite golden orbs give a touch of refinement to the grandeur.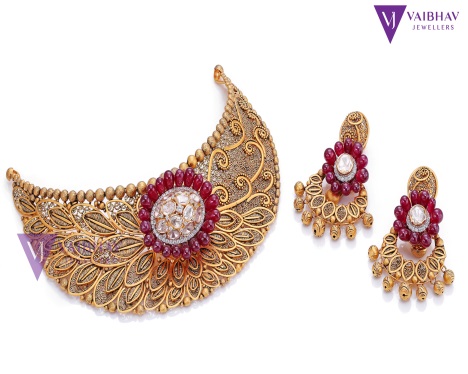 Neck loving Antique Choker designed artistically to allure. The Antique Choker is sculpted with leaves and vines on a Golden Mesh background. CZs form a centre piece with Ruby drops arranged in contrary style. Matching Earrings add to the beauty.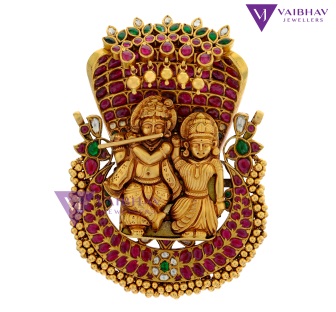 Vaibhav jewellers brings exclusive temple architecture to your neckline in the form of this Antique Radha Krishna Pendant. Secured artistically in a cradle of Rubies, this pendant gives importance to every minor detail of Jewellery making.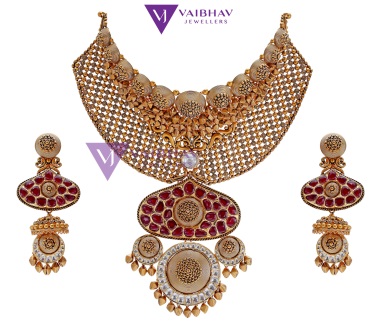 Antique elegance coming from the heart of Vaibhav Jewellers Karigars. Studded in Ruby and Kundans they portray reflections of a bygone era of royalty and splendid culture of the Raj Gharanas.  The intricate ball work with rhodium finish gives a refreshing spectrum of inlay art.
Antique Choker with matching Earrings and bangles form a perfect Bridal wear. Intricate detailing and deep inlay work makes it a stand out piece.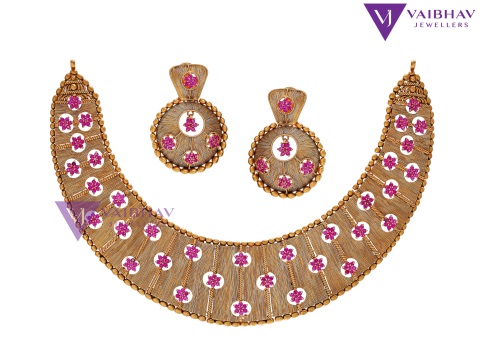 When modernity matches manoeuvre the result is this exquisite Antique Ruby Necklace from Vaibhav Jewellers, the matching earrings add to the beauty and charm of the Necklace.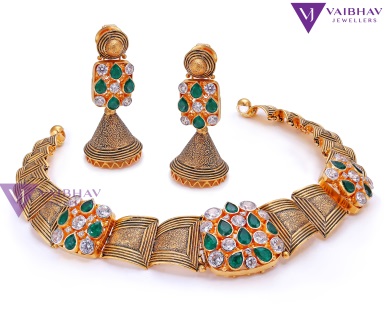 Matchless modern Antique necklace made of Emeralds and CZs. The matching conical earrings and the flashes of flat stone layover render a beautiful grace to the Necklace.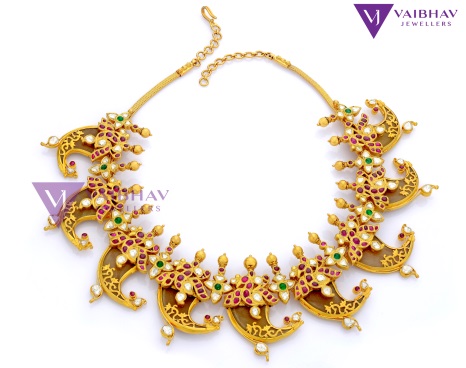 Vaibhav Jewellers believes in changing stereotypes. The traditional Tiger Nails is now transformed to a vibrant Pachi Necklace. The featured Golden orbs give a pagoda look and enhancing the grace further is the abstract arrangement of Rubies, Emeralds and CZs.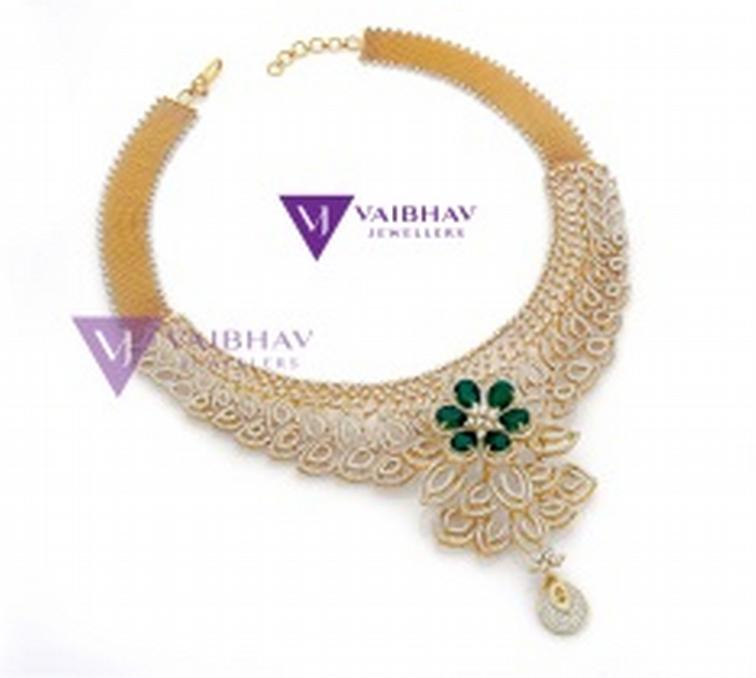 Appealing Diamond Necklace with semi-precious stones crafted in a double layer design. The duet leaf arrangement coupled with a centre dangle render a broad look to the Necklace making it a surreal piece.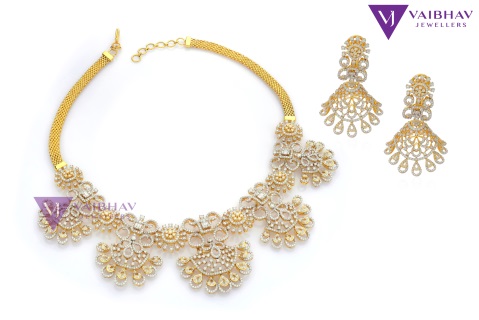 Pure blissful Diamond Necklace with matching Earrings designed to lure your senses away. The abstract motifs render an unmatched finesse to the Necklace.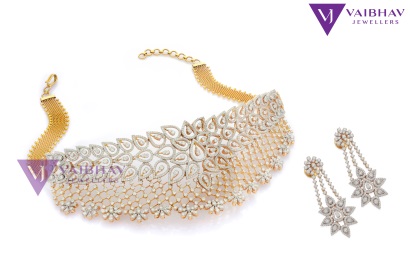 Diamond Choker with chandelier earrings, it is a combination of graceful design and elegant modernity is this Choker set. Double layer arrangement with paisley schema on the top and bracing inlay work at the bottom enhances the brilliance of the Diamond Choker.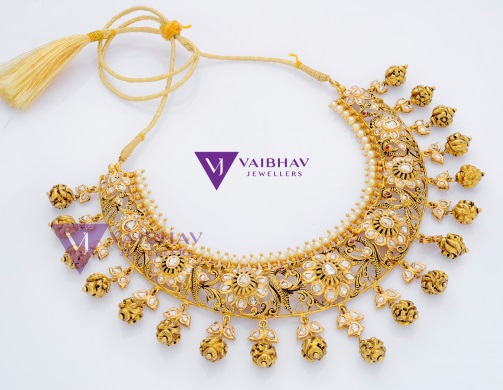 A melange of Pachi Workmanship and Antique golden balls results in this exquisite Pachi Necklace. The inlay peacock design and Kundan motifs add to the beauty.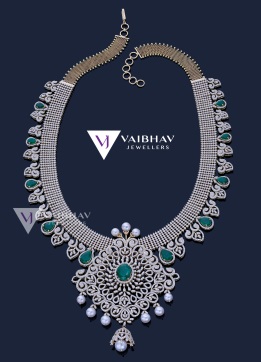 Emerald Diamond Haram designed from a centre highlight consisting of layers of Paisley art. Giving a finishing touch to this ethereal piece are the pearl danglers, raising its beauty to a new level.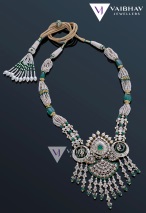 A cocktail Pachi Necklace beautifully set with Emerald beads brought from the house of Vaibhav Jewellers is surly a show stopper piece. Set amidst petite pearls this Necklace can be easily matched with any traditional and fusion wear.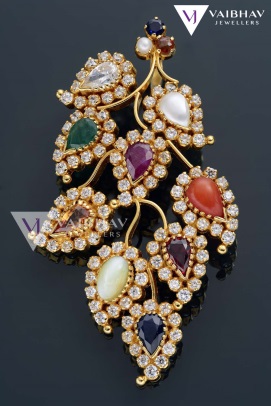 Vaibhav Jewellers brings the evergreen Navratna Pendant studded in petite CZs as perfect eye treat where each stone stands individually yet in synchrony with each other. They can be easily paired with Navratna bangles and ring to form a perfect Navratna set.
Contact details & Whatsapp: 9177403000
Email: [email protected], [email protected]
Website: Vaibhav Jewellers